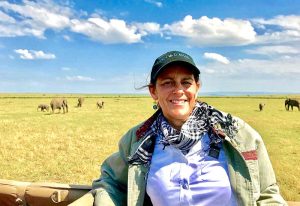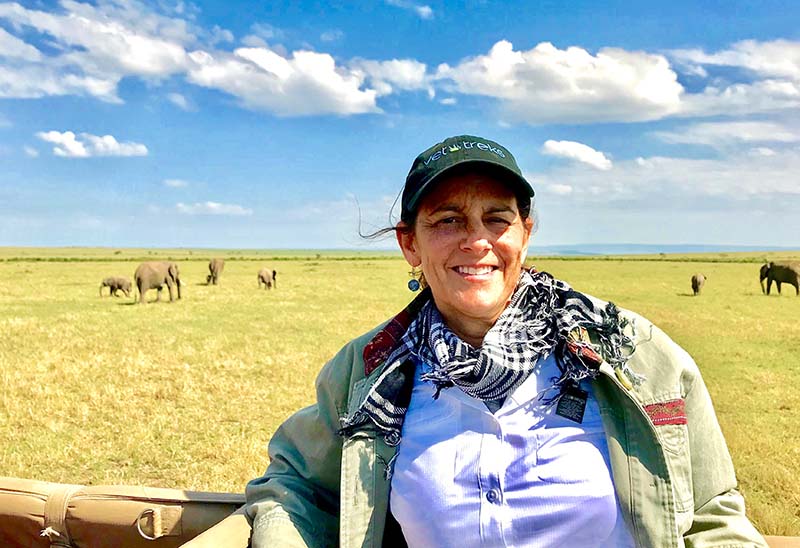 Lisa McCarthy grew up in the desert southwest in a large extended family and with many pets – both domestic and the wild 'rescued' variety. She still remembers when Horney Toads (now a threatened species) were commonplace and could be found in any El Paso backyard!
Lisa earned a B.S. in Chemistry in 1983 from Sul Ross State University where she also spent a lot of time in nearby Big Bend National Park. There she fell in love with outdoors, enjoying camping, rafting, climbing and the awe-inspiring solace of the desert. Lisa earned her veterinary degree from Texas A&M University in 1989. She returned to school and acquired an MBA from Colorado State University in 2005, qualifying her as a "double Aggie." She has honed her skills in private practice, shelter and rescue practice, and practice management. She is the now the proud and happy owner of Midtown Veterinary Medical Center in Ft. Collins, CO.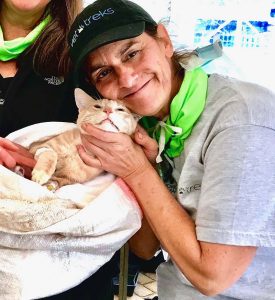 Lisa caught the travel bug early in life from her mom, who made sure that they saw much of the western US and Canada, and even traveled to Europe before Lisa graduated from high school. Since then, Lisa has seen more of Europe and Ireland, Mexico and many Central and South American countries, Kenya, South Africa, and Vietnam. She has hiked Kilimanjaro and also followed the footsteps of one of her heroes, Sir Ernest Shackleton, to Antarctica in 2016 for the centenary of the Endurance experience. Spending time with another icon, Dr. Jane Goodall, at a Vet Treks-sponsored event in Boulder was a life altering experience!
Lisa credits her time in shelter practice at the Humane Society of Boulder Valley for igniting her passion for large scale, MASH-style, spay/neuter programing in areas of need. She has participated in or led more than 20 such campaigns in Mexico, the Navaho and Hopi Nations Reservations, and the Bahamas. Lisa noticed over those years that, while those efforts were impressively effective at curbing the current overpopulation of dogs and cats in an affected area, they did not create sustainable change. The populations of animals would quickly rebound in between visits. Vet Treks Foundation aims to fill that gap. By working with, and training, local veterinarians in high volume spay/neuter techniques, and by providing them with the supplies and tools needed to continue this work, veterinary capacity is increased in areas of need and the efforts to help local communities are sustained over the long term.
The presence of veterinary care in a developing community positively impacts the animal health, the public health, the environment, and the economics of communities – an endorsement of the One Health mantra in action!
At home in Ft. Collins, Lisa continues to provide care for the pets in her practice and enjoys life with her menagerie of pets – two cats and two dogs (all rescued, of course). She also loves gardening with her folks, hiking, biking, fishing and water sports of all varieties. She lives by the axiom "La vida es corto, pero ancho" – "Life is short, but wide!"
Over the past six years, Vet Treks Foundation has provided rabies vaccine campaigns that have protected over 6000 dogs, cats and donkeys, and thus the people in close contact with these animals, from the threat of rabies. They have also conducted humane sterilization campaigns that have spayed/neutered over 600 cats and dogs. They are always recruiting people who want to join a trip to Kenya to provide these veterinary services followed by a spectacular African Safari!