Vet Treks Foundation was created by Dr. Lisa McCarthy in 2013 in Fort Collins Colorado. While the short-term goal of Vet Treks Foundation is to address urgent animal welfare issues in our target areas, the long-range mission is to support the expansion of veterinary services in areas of need in order to create long term sustainable care for animals in underserved areas into the future.
Lisa McCarthy, D.V.M. practices at her own Clinic – Midtown Veterinary Clinic – in Fort Collins, CO. Her career has taken her to several clinics over the years. Her love of travel has exposed her to various cultures and countries. Creating Vet Treks Foundation allowed her to marry her two loves and provide an extraordinary experience for like-minded people in her industry.
The presence of permanent veterinary services in developing communities brings many positive changes. Some of these include:
Improved animal health and decreased animal suffering
Improved public health due to decreased transmission of animal-to-human diseases, specifically by population control with spay/neuter services and mass rabies vaccination.
Improved local economies due to the multiplier effect of local businesses (in the form of the veterinary practice and related tangential services)
In many developing countries veterinary services are not widely available. However, changes in global commerce, local economic improvements and culture have brought about dramatically increased demand for animal care services in our target Kenya.
The Vet Treks Foundation will support the development of expanded veterinary services in communities that are lacking.
This will be accomplished by taking groups of volunteers to Kenya (and other developing countries in the future) to host Spay and Neuter Clinics. In addition to hosting the clinics, they train local veterinarians in how to do them on their own, making the program sustainable.
Vets and Vet Technicians make up the groups who travel internationally. Following the service projects, they can opt to go on Safari to enjoy the wildlife, culture and scenery of Africa. Of course, this is an exciting part of a Vet Treks Trip.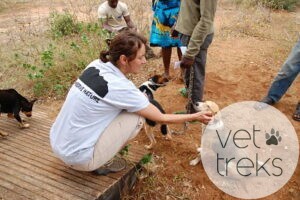 Mission
Building veterinary capacity in underserved areas through veterinary education and the provision of essential implements of practice to local veterinarians.
 Vision
A planet where all animals have the veterinary care they need, and where the public health and economic benefits of a healthy animal population are realized in developing communities.
As of 2022, the Foundation has an operating Board of Directors, has hosted Five treks to Kenya and is experiencing significant growth. Vet Treks offers veterinarians and veterinary technicians the opportunity to give back using their skills and passion for animals. There are also opportunities for non-professional animal lovers to participate.
 For additional information about upcoming trips, please click here. While you're there, please sign up for updates and newsletters. If you need inspiration, please look through these images from past treks. You can contact the Foundation by clicking here on their website or emailing lisa.vettreks@gmail.com