News Release
For Immediate Release
Press Contact: Lisa McCarthy, Lisa.vettreks@gmail.com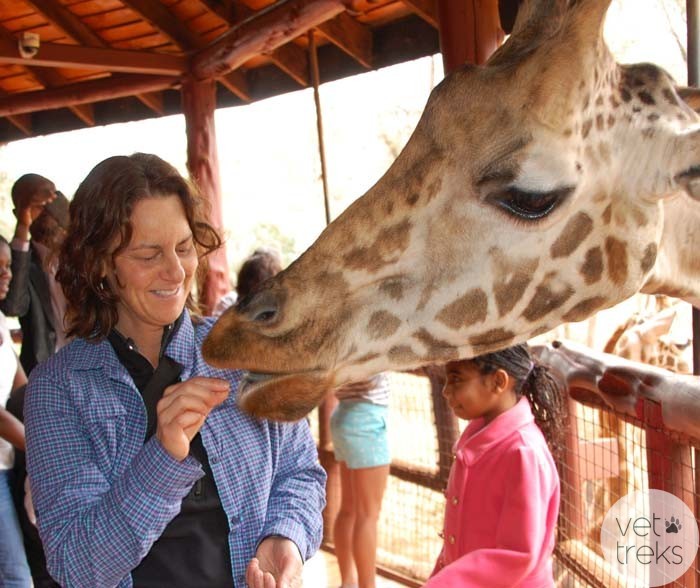 Figure 1. Dr Lisa McCarthy in Kenya
VET TREKS FOUNDATION RETURNS TO KENYA IN JUNE 2022
Volunteers will experience a safari following their work
 Fort Collins, CO – May 12, 2022 After a TK-year hiatus due to the COVID-19 pandemic, Vet Treks Foundation returns to Kenya this June for its Machakos County Sterilization & Anti-Rabies Campaign. Veterinarians, vet technicians, and hard-working animal lovers from all walks can join this service trip and be a force for good. Before and after the veterinary project, guests will have the option to participate in two add-on safaris. Potential itineraries below:
June 10-13: Nairobi Tours Add On (Game Drive, Cultural Center, Shopping & Galleries)
June 13-23: Machakos County Sterilization & Anti-Rabies Campaign
June 23-27: Masai Mara Safari Adventure Add On (experience of a lifetime)
Every year, rabies leads to 59,000 human deaths worldwide, 99% of which result from exposure to rabid dogs. Ongoing animal vaccination is one of the best ways to protect animal and human health from this deadly disease. The Kenyan government has undertaken an ambitious campaign to eradicate the domestic incidence of rabies by 2030. Since TK, Vet Treks has worked with strategic partner African Network for Animal Welfare (ANAW) to build local capacity to fight the epidemic in hard-hit Machakos County. In June 2022, after a 2-year hiatus due to the COVID-19 pandemic, the program will return.
Vet Treks Founder, Dr. Lisa McCarthy said, "I'm very pleased to be collaborating once again with African Network for Animal Welfare (ANAW) to facilitate life-changing service trips."
Vet Treks provides expertise in the development and sustainability of community-wide spay/neuter services, an important effort that can improve animal and community welfare. The current focus of their work is in Kenya.  Rabies is spread through bite wounds from infected dogs, cats or other domestic animals. Rabies is preventable by:
Vaccination of susceptible animals
Public education on bite avoidance and proper post-bite medical treatment
Reduction of the population of stray and unwanted cats and dogs
Over the past six years, Vet Treks Foundation has provided rabies vaccine campaigns that have protected over 6000 dogs, cats and donkeys, and thus the people in close contact with these animals, from the threat of rabies. They have also conducted humane sterilization campaigns that have spayed/neutered over 600 cats and dogs. Now they offer the opportunity for others who have interest in their goals to join a trip to Kenya to provide these veterinary services followed by a spectacular African Safari!
This trip is currently fully booked. Please sign up for the next travel opportunity on their website.
# # #
About Vet Treks…
Vet Treks was created in 2016 by Dr. Lisa McCarthy as fulfillment of a long-term dream to help with animal health in developing countries. While the short-term goal of Vet Treks Foundation is to address urgent animal welfare issues in their target areas, the long-range mission is to support the expansion of veterinary services in areas of need in order to create improvements in animal welfare far into the future.
Vet Treks: Travel as a Force for GOOD!