September 2020
I am saddened to announce the passing of my very dear friend Dr. Rhea Dodd, a veterinarian of renowned accomplishment and a great supporter of Vet Treks. After a long and valiant battle with cancer, she left us on September 3rd, 2020. She will be missed by many people who dearly loved her; the world has lost a brilliant, funny, vibrant woman and a fantastic advocate for animals and the people who love them. We have established a memorial fund to support one of the causes for which Rhea was so passionate. Here is the story of how Rhea was so instrumental in the good work we are doing: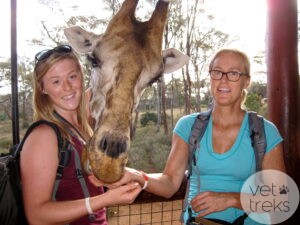 When I formed Vet Treks Foundation in 2013, I traveled extensively to make connections with local NGO's in countries of interest, that were active in work that I wanted to support. I did this because locals know better than outsiders what is needed in their communities. I wanted to spend time with them, listen to them, and work to discover areas of need that Vet Treks could support. Specifically, the mission of Vet Treks is to support and expand local veterinary services, the ultimate goal being to create sustainable animal care in communities of need.
At that time, Rhea was on the USA board of directors for Africa Network for Animal Welfare (ANAW) and invited me to join her on a veterinary experiential trip to Kenya to experience what ANAW was doing there. The trip was amazing and magical in so many ways, and it began a relationship between ANAW and Vet Treks that endures. I discovered that ANAW wanted to develop a community sterilization (spay/neuter) program to address the overpopulation of dogs and cats in communities where they work. Overpopulation of these (mostly stray) animals results in a life of starvation and misery for them. It also contributes to the spread of several infectious diseases to humans, including rabies, a deadly problem that is sadly still prevalent in Kenya. It happens that conducting mobile, MASH-style, high volume sterilization campaigns is an area of expertise of mine and the crews of volunteers I am able to mobilize. Thus, a partnership was formed and to date, Vet Treks has sterilized and rabies vaccinated hundreds of animals in several Kenyan communities.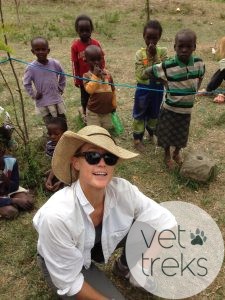 Vet Treks has since developed working relationships with other Kenyan NGOs to provide similar services. We now work in partnership with the Kenyan Veterinary Board and the Kenyan Small and Companion Animal Veterinary Association, providing accredited continuing education to Kenyan vets and technicians, so we can teach them to continue running sterilization clinics on their own. Local vets learn the process through lecture and then active participation in our on-the-ground campaigns. Most importantly, we donate surgical instruments and the necessary supplies and medicines to community vets so that they can continue the work after we are gone. All of this is done with Vet Treks' ultimate mission in mind: creating sustainable long-term veterinary care in developing communities, which leaves a positive impact on animals, the public health, and the environment.
This is where Rhea Dodd's Fund comes in. She traveled again with Vet Treks in 2016 to support the first community sterilization campaign that we conducted, in Machakos County.
Rhea believed strongly in the vision of sustainability. Although she was unable to travel again with us after her diagnosis, she continued to donate funds and remained a trusted advisor and wonderful friend to Vet Treks, and to me personally, over the ensuing years. Now, each year when we make one or more donations of equipment, supplies, medicines and other implements that support animal welfare and local vets in Kenya, the donations will be done in Rhea's name, and paid for from this fund. It will enable us to do so much more for the animals, vets and people of Kenya!
The Rhea Dodd Memorial Fund within Vet Treks Foundation (a 501c3) has been established with matching funds from Rhea's daughters (Anni and Lexi Sonnenfeld), her life partner (Gary Kofinas), and myself. As we grow this fund with help from you, we will create a legacy that will sustain for many years into the future and will literally save the lives of animals and people in Kenya, all in Rhea Dodd's honor. I am certain that she would be so proud!
With deep love and admiration for our wonderful friend, Dr. Rhea Dodd (11/3/59-9/3/20),
Dr. Lisa McCarthy
Founder and Executive Director, Vet Treks Foundation