Hello world and welcome to the very first Vet Treks blog!
We are excited to move forward with our dream of serving animals and people in developing countries around the globe.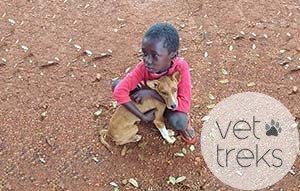 Vet Treks travels with teams of animal lovers, caregivers and experts to underserved areas of the world to participate in activities that advance the cause of animal welfare.  We specifically choose projects that also have a positive impact on community public health, the environment, local economies, or all of these.
The value of travel to these areas goes both ways: our projects and travel dollars support the communities we visit and our participants experience the travel to some of the most astounding places on earth.  Travel as a force for good!
Vet Treks participants may assist in rabies vaccine clinics, support or participate in spay/neuter campaigns, teach animal welfare to school children, work with wildlife officials to care for trapped or injured animals, teach standard of care techniques to veterinarians or veterinary students, and many other activities.
Although our passions and talents lie within the sphere of animal welfare, we endorse the One Health concept that the wellbeing of animals, people and the environment are not exclusive, but are deeply interconnected.  We suggest that local economies should also be a part of this framework:  One Health, Plus One.
Consider this scenario: by vaccinating community animals against rabies, children are less likely to be exposed to and die of this horrible disease.  Families are spared the considerable expense of post-rabies exposure prophylaxis injections.  Farmers are less likely to suffer the financial loss of having to cull valuable livestock that get exposed to rabies.  Sparing food animals results in improved food security and removes one common incentive for misuse of sensitive nearby habitats and wildlife (such as poaching).  This is just one of many examples of One Health, Plus One: a project directed at animal welfare also positively impacts public health, the environment, and the financial security of families and farmers in a small community.
As a veterinarian, my Big, Hairy, Audacious Goal[i] is to someday fund the establishment of permanent veterinary clinics in the developing world, and thus to create sustainable care for animals in those communities, and the people who depend on them.  The Vet Treks Foundation, will raise funds to meet that goal.
A sentiment that has been said many times bears repeating: we are all in this together!  This blue speck of a planet is the only one in a measureless universe that we know for sure supports human or any other form of life.  Our beautiful planet with its astounding biodiversity and our fellow inhabitants are in need of some tender loving care.  For better or worse, we the people have more choice than all other living creatures; commensurately we own the capacity and bear the responsibility for doing the greatest destruction or good of all creatures.
Vet Treks will strive to create positive change for animals and people in developing communities for many years to come.  Whether our impact is in well known regions or in small, tucked away places, we aim to be a part of the One Health revolution that reaches across oceans, countries, cultures and other boundaries to make a positive difference on our planet.  Please join us in 2016.
Lisa McCarthy, DVM/MBA
President, Vet Treks
March, 2016
 [i] Collins, Jim.  Good To Great.  New York: HarperCollins, 2001.