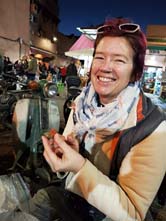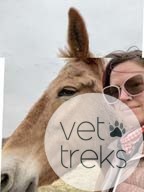 Stacey McKenna is a writer and medical anthropologist. She currently works as a senior fellow at the R Street Institute, where she studies and writes about ways policy shapes the risks associated with a range of behaviors. Previously, she has worked as a professor, freelance journalist, and research consultant and volunteered in animal rescue and HIV prevention organizations.
As a member of the Vet Treks board, Stacey enjoys the opportunity to merge her passion for service with her interest in health, love for animals, and curiosity about the world. In addition to enthusiasm for Vet Treks' mission, she brings skills and experience in grant writing and media relations.
Ever the anthropologist, Stacey loves immersing herself in new places and has called 8 states and 5 countries home. Based in  Fort Collins, Colorado since 2007, she now volunteers locally, fosters senior dogs, travels as much as possible, and explores Colorado's wilds with her mule, Daisy, and husband, Mike.